Welcome to our Investor Centre
Please click on the Profiles below to see more details on our other clients:
All of the information contained within this website has been compiled from sources believed to be reliable, but no warranty, expressed or implied, is given that the information is complete or accurate or that it is fit for a particular purpose. All such warranties are expressly disclaimed and excluded. Any opinions, recommendations and forecasts referred to are not those of Walbrook PR Limited but are expressly those of third parties, such as investment analysts and financial journalists. Such opinions, recommendations and forecasts may have been superseded and thus may not necessarily be the current opinions, recommendations and forecasts of the relevant analyst/broker. None of the content of this website should be construed as an offer to buy or sell, or a solicitation of an offer to buy or sell, the securities of any listed Company mentioned or featured herein as it is for information only. Any recommendations referred to by third parties do not necessarily imply the suitability of particular securities for individual situations. The value of securities and the income from them may fluctuate. It should be remembered that past performance is not necessarily a guide to future performance. You are strongly advised to seek guidance from a professional investment adviser before entering into any contract to buy or sell any security featured herein. By reading this disclaimer, and ticking the box below, you confirm that you accept and understand its content, and that you shall not hold Walbrook PR Limited, its directors and staff nor any of its subsidiaries or connected companies liable for any loss that you may sustain should you decide to buy or sell any of the mentioned securities.
Trinity Exploration & Production Plc
Company Profile
Company website
Sector
Oil, Gas and Coal (Oil: Crude Producers)
Description
Trinity is an independent oil and gas exploration and production company focused solely on Trinidad and Tobago. They operate production and development assets both onshore and offshore, in the shallow water West and East Coasts of Trinidad. Trinity's portfolio includes current production, significant near-term production growth opportunities from low risk developments and multiple exploration prospects with the potential to deliver meaningful reserves/resources growth.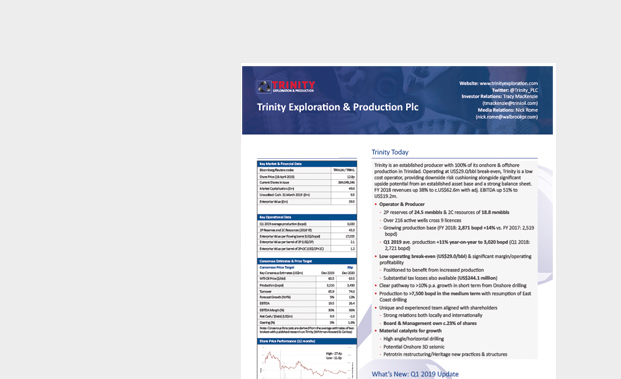 Latest Company Summary
Investor Access
Event information
Trinity management will be providing a presentation on the prospects and plans for 2021 and hosting an Investor Q&A session at 13.00 (BST) on 8 February 2021 through the digital platform Investor Meet Company. Investors can sign up to the platform for free and add to meet Trinity Exploration
here
Venue
Time
Financial Calendar
| | |
| --- | --- |
| Event | Date |
| Year End | 31 December |
| Half Year End | 30 June |
| Preliminary Results* | May |
| Interim Results* | September |
| AGM* | June |
* Months based on previous announcements of this kind
Latest Corporate Video