Company Profile
Company website
Sector
Software & Computer Services (Computer Services)
Description
A leading provider of IT applications to the global healthcare market. The Company focusses on the early development sector of the drug and chemical research and development industry, from late discovery and lead optimisation through to the Phase I clinical evaluation stage.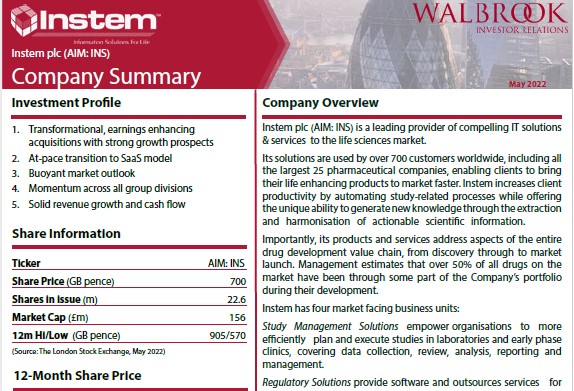 Latest Company Summary
Investor Access
Event information
Instem plc is registered to the online presentation platform, Investor Meet Company.
To view their most recent presentations, and to receive notifications for upcoming events, sign up on the Investor Meet Company website here
Click Here to view Instem's latest research notes from Progressive Equity Research
Venue
Time
Financial Calendar
| | |
| --- | --- |
| Event | Date |
| Year End | 31 December |
| Half Year End | 30 June |
| Preliminary Results* | June |
| Interim Results* | September |
| AGM* | June |
* Months based on previous announcements of this kind
Latest Corporate Video