Company Profile
Company website
Sector
Software and Computer Services (Consumer Digital Services)
Description
Smoove's mission is to revolutionise the home moving and owning process for everyone involved. The Company's cornerstone cloud-based platforms provide significant leverage for growth with strong, established client bases and routes to market - including mortgage brokers, conveyancers, estate agents and lenders.
eConveyancer (https://econveyancer.com/) is one of the leading distribution channels for conveyancing in the UK, bringing consumers and legal professionals together via comparison services, which provide solutions for home movers and the re-mortgage market.
The Company's growing digital focus including the DigitalMove platform, which has been absorbed into the eConveyancer offering and Smoove brand, is focused on supporting the whole home moving and ownership experience.
The Company's existing platforms have been designed with a view to adding services and reach and the Company is well placed to create exponential returns as functionality increases.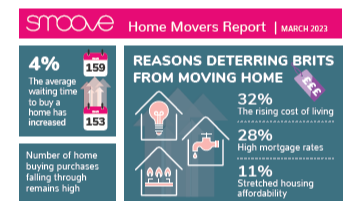 Latest Company Summary
Investor Access
Event information
Preliminary Results expected in June
Venue
Time
Financial Calendar
| | |
| --- | --- |
| Event | Date |
| Year End | 31 March |
| Half Year End | 30 September |
| Preliminary Results* | June |
| Interim Results* | December |
| AGM* | July |
* Months based on previous announcements of this kind
Latest Corporate Video