Transense Technologies plc
Company Profile
Company website
Sector
Electronic and Electrical Equipment (Electronic Equipment: Control and Filter)
Description
Based in Oxfordshire, UK, Transense Technolgies plc (UK AIM:TRT) has developed patent protected highly specialised sensor systems and supporting technology for use in a variety of diverse high growth markets.
Transense's Surface Acoustic Wave (SAW) sensors are wireless and battery-less, and are used in the real-time measurement of torque, temperature and pressure to improve power, performance and efficiency. This patent-protected technology offers significant advantages over alternative measurement tools, and is particularly targeted towards the aircraft, specialised automotive, green energy and industrial markets.
It's Translogik probe range comprises highly accurate tyre testing equipment which enables rapid data capture aimed at fleet managers and tyre service providers.
The Company's iTrack technology, used for monitoring the tyre and vehicle performance of heavy duty off-road vehicles, was licensed to Bridgestone Corporation for a ten year term commencing in June 2020.
Further details are available at
www.transense.com
.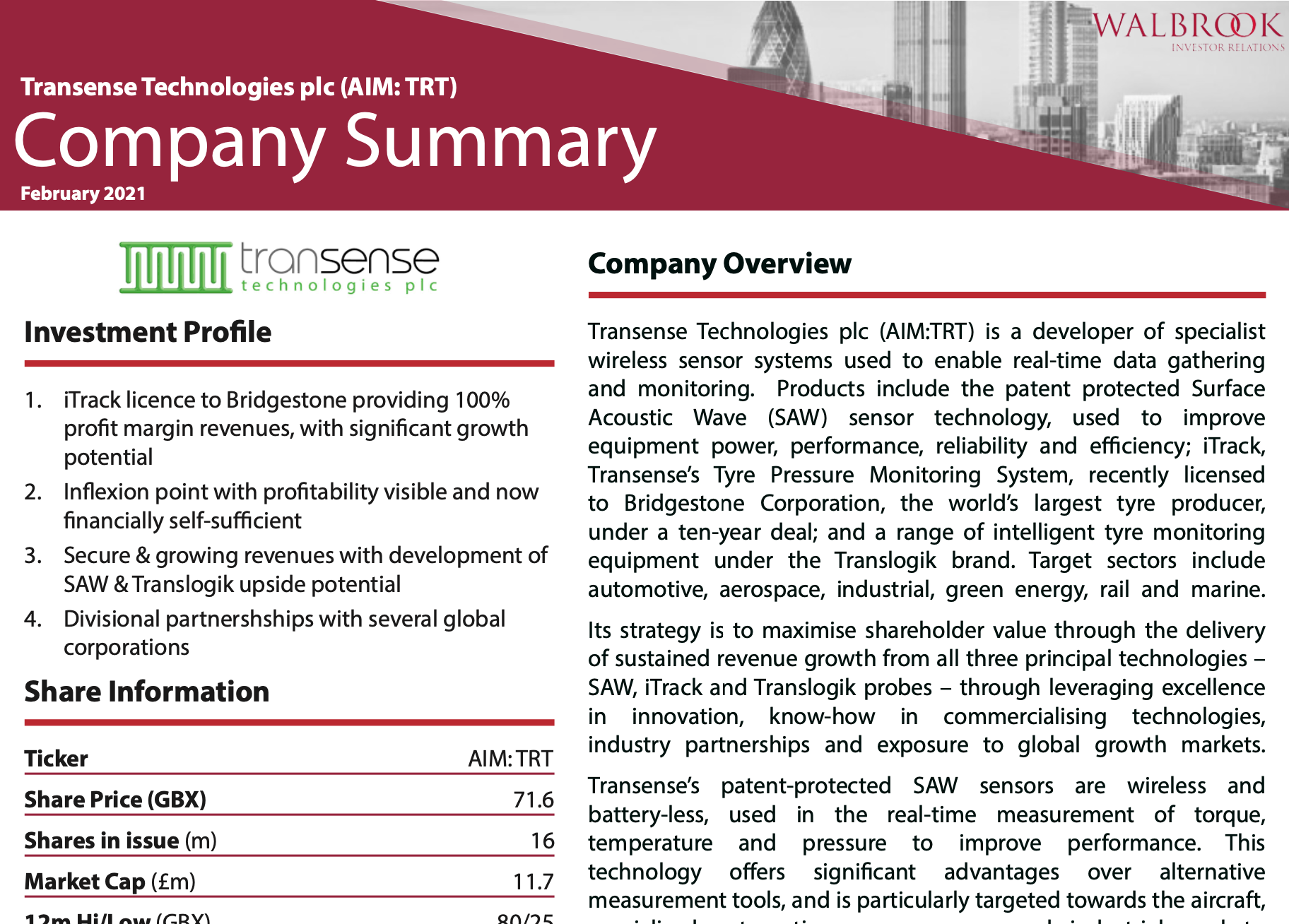 Latest Company Summary
Investor Access
Event information
Transense Technologies plc is registered to the online presentation platform, Investor Meet Company.
To view their most recent presentations, and to receive notifications for upcoming events, sign up on the Investor Meet Company website
here
Venue
Time
Financial Calendar
| | |
| --- | --- |
| Event | Date |
| Year End | 30 June |
| Half Year End | 31 December |
| Preliminary Results* | October |
| Interim Results* | February |
| AGM* | December |
* Months based on previous announcements of this kind
Latest Corporate Video