Company Profile
Company website
Sector
Pharmaceuticals & Biotechnology (Pharmaceuticals)
Description
Shield is a commercial stage pharmaceutical company focused on the commercialisation of Accrufer®/Feraccru® (ferric maltol), an innovative oral iron therapy for iron deficiency differentiated from other irons by its efficacy, broad label and well-tolerated formulation. The Group has launched Accrufer® in the US with an exclusive, multi-year collaboration agreement with Viatris, Inc. Feraccru® is commercialised in the UK and European Union by Norgine B.V., that also have the marketing rights in Australia and New Zealand. Shield also has an exclusive license agreement with Beijing Aosaikang Pharmaceutical Co., Ltd., for the development and commercialisation of Accrufer® / Feraccru® in China, Hong Kong, Macau and Taiwan, with Korea Pharma Co., Ltd. in the Republic of Korea, and with KYE Pharmaceuticals Inc. in Canada.
Accrufer®/Feraccru® has patent coverage until the mid-2030s

Accrufer®/Feraccru® are registered trademarks of the Shield Group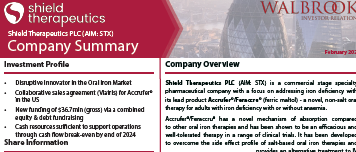 Latest Company Summary
Investor Access
Event information
Venue
Shield Therapeutics' offices, Northern Design Centre, Baltic Business Quarter, Gateshead Quays, England NE8 3DF & Online
Time
Wednesday 28 June 2023 at 2:00 pm.
Financial Calendar
| | |
| --- | --- |
| Event | Date |
| Year End | 31 December |
| Half Year End | 30 June |
| Preliminary Results* | May |
| Interim Results* | September |
| AGM* | June |
* Months based on previous announcements of this kind
Latest Corporate Video